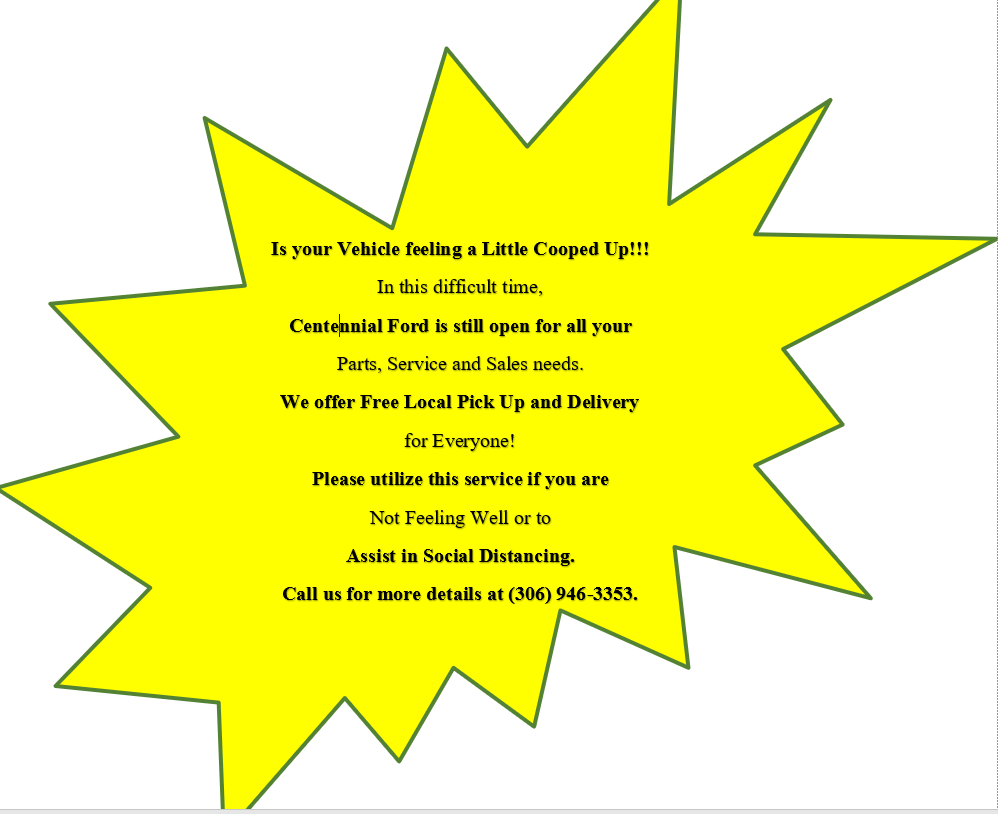 COVID-19 Coronavirus – FAQs and Impacts
Centennial Ford Sales Ltd cares about your health and your family's health and is monitoring coronavirus developments closely.
Please take the time to review the FAQs below to help you understand more about the virus and how it may impact our workplace.
What is COVID-19?
COVID-19 is a type of coronavirus believed to have originated out of Wuhan in the Hubei Province of China. COVID-19 is not a flu but a pneumonia-like infection.
How is the current COVID-19 transmitted?
The virus is thought to spread between people who are in close contact with one another through respiratory droplets produced when an infected person coughs or sneezes. This is similar to how influenza and other viruses that cause respiratory illness spread according to the Centers for Disease Control and Prevention (CDC).
The virus may also spread when a person touches a surface or object that has virus on it and then touches their own mouth, nose, or possibly their eyes, but this is not thought to be the main way the virus spreads.
The immediate risk of being exposed to this virus is still low for most Canadians, but as the outbreak expands, that risk will increase. Cases of COVID-19 and instances of community spread are being reported in a growing number of states.
What steps should you take to minimize the risk of transmission?
The best way to help prevent infection is to avoid exposure. Take the same precautions you would normally take to avoid the seasonal flu. For example:
• Wash your hands often with soap and water for at least 20 seconds especially after you have been in a public place, or after blowing your nose, coughing, or sneezing. If soap and water are not readily available, use a hand sanitizer that contains at least 60% alcohol. Cover all surfaces of your hands and rub them together until they feel dry;
• Avoid touching your eyes, nose, and mouth with unwashed hands;
• Avoid close contact with people who are sick;
• Stay home if you are sick;
• Cover your cough or sneeze with a tissue, then throw the tissue in the trash and immediately was your hands afterwards, per the guidelines above; and
• Clean and disinfect frequently touched surfaces daily. This includes tables, doorknobs, light switches, countertops, handles, desks, phones, keyboards, toilets, faucets and sinks.
What are the symptoms of the current COVID-19?
The CDC reports that virus symptoms include mild to severe respiratory illness with fever, cough, and shortness of breath. The CDC believes at this time that symptoms may appear in as few as two days or as long as 14 days after exposure.
What if I am feeling sick but am not sure if I have COVID-19?
Seek medical advice if you develop symptoms and have been in close contact with a person known to have COVID-19 or if you live in or have recently been in an area with ongoing spread of COVID-19.
You should notify your supervisor, if recommended by your doctor, and stay home if you are sick.
Where can I get more information about COVID-19?
It's important to use reliable and credible sources for information about the coronavirus. Here are some resources to help you keep up with the latest coronavirus facts: